Welcome
If you are looking for information about the parishes of Shotley, Chelmondiston, Harkstead or Erwarton, you are in the right place! Whether you need information about weddings or baptisms or want to know more about our services and our events, feel free to browse our site. In case you can't find what you are looking for, please be in touch through the contact page. A lot is going on in our four parishes and we would love to welcome you among us.
Revd Canon Liesbeth Oosterhof.
Prayer
Christ has no body now, but yours.
No hands, no feet on earth, but yours.
Yours are the eyes through which he looks With compassion on this world.
(Teresa of Avila)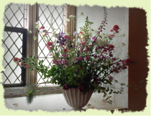 This year I will spend my combined Summer Holiday and Reading Week at home in the rectory. That means you may see me around, but I will
Read more →

Erwarton church is filled with beautiful wreaths. Come and have look, and join us for Advent Carols at
Read more →